Current Newsline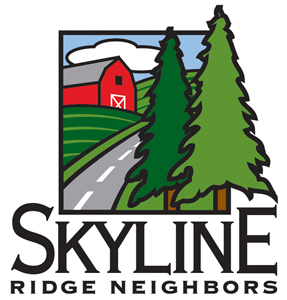 Skyline Rural Watch Newsline
Mailbox: newsline [at] srnpdx [dot] org
Urgent: alert [at] srnpdx [dot] org
Phone: (503) 621-3501
November 21, 2014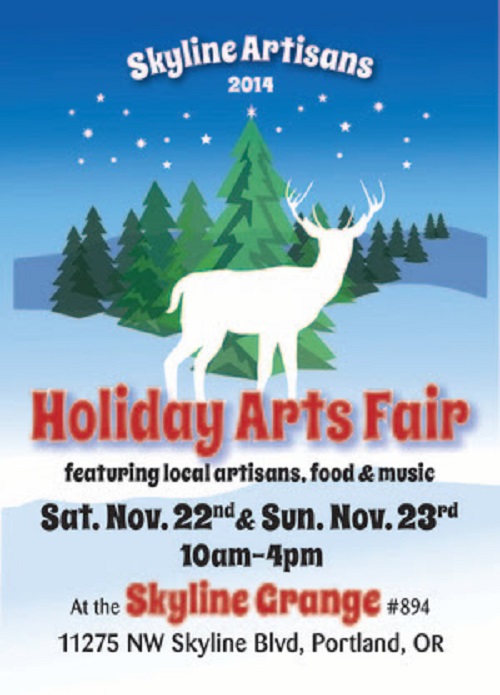 This will be a weekend event, with about 20 booths showcasing the work of local Skyline area artisans.
Included will be book arts, jewelry, home décor & accessories,
pottery, glass, and more. As in previous events, our local food vendor
will have their baked goods other foods available for purchase.
Also, we are looking forward to a performance of traditional Japanese Koto music on Saturday 11/22 starting around noon,
as well as youth performers Saturday afternoon.
Discover the beauty that is being created in your neighborhood, come out
to strengthen our shared community bond, and find that perfect
holiday gift.
We look forward to seeing you.
For more information, please contact Ken Pincus at ken [at] pincuspotterystudio [dot] com

Events:
Nov. 22-23, 10 AM – 4 PM: Skyline Artisans Guild presents Holiday Festival
at the Skyline Grange. Featuring 20 booths showcasing the work of
Skyline area artisans. Jewelry, accessories, pottery, glass, book arts,
paintings,
and more. Food vendors and live music.
Skyline School Bottle and Can Drive
Sat, 11/29/2014 - 10:00am - 2:00pm
Dec. 2 from 5:30 to 7:30 p.m. North Tualatin Mountains Natural Area Community Planning Meeting, at the Skyline Grange, 11275 NW Skyline Blvd., Portland.
Dec. 8, 7:30 PM: Monthly meeting of Skyline Grange #894, 11275 NW Skyline. Everyone is welcome to attend.
As a service to neighbors, SRN publishes a listing of local government
agencies and businesses in the Skyline Resource Directory. Follow the links in this section to view its contents and learn how to add a business or agency listing.
Listing of organizations and businesses herein does not imply any
endorsement of SRN nor does it imply a lack of endorsement for similar
organizations or businesses not included.

COMMUNITY LINKS:
About the Newsline: Skyline
Rural Watch Newsline is a part of Skyline Ridge Neighbors (SRN) and has
been produced since June 1994 as a means to communicate neighborhood
information. The Newsline is produced by Laurel Erhardt (editor) with
help from Miles Merwin and Sen Speroff
The Newsline depends on you as a source of accurate information about
local crimes, upcoming events, and other news pertinent to the area. If
you have information you would like considered for the Newsline, you
may do so by e-mailing the information to newsline [at] srnpdx [dot] org, or leaving a message at (503) 621-3501. Urgent, timely items (crimes, lost pets) should be emailed to alert [at] srnpdx [dot] org.
If you would like more detailed information about any item on the
Newsline, request that information & SRN will e-mail it to you if
available.
You can subscribe to the Newsline at the Skyline Ridge Neighbors Website, SRNPDX.org. Tell your neighbors about this free Newsline service.
About Skyline Ridge Neighbors: SRN
is a neighborhood association serving much of unincorporated northwest
Multnomah County and some adjacent areas within the city of Portland.
SRN is registered as a neighborhood association within Multnomah County,
registered as a non-profit public benefit corporation with the State of
Oregon and approved as a 501(c)(3) non-profit organization under the
IRS Code. SRN is operated by volunteers and with donated funds entirely.
If you would like to donate to SRN in support of its activities, such as
this free Newsline service and the publication of its quarterly Skyline
Ridge Runner, send your donation to "Skyline Ridge Neighbors", c/o Laurel Erhardt, 14416 NW Skyline Blvd, Portland, OR 97231 or donate through PayPal. Contributions are tax deductible to the extent allowed by law.

---
If you no longer wish to receive these emails, please reply to
this message with "Unsubscribe" in the subject line or simply click on
the following link:
---

Skyline Ridge Neighbors
14416 NW Skyline Blvd
Portland, Oregon 97231
US

Read the VerticalResponse marketing policy.