Current Newsline
Mailbox: newsline [at] srnpdx [dot] org
Urgent: alert [at] srnpdx [dot] org
Phone: (503) 621-3501
August 1, 2015
SRN Summer Gathering is Next Saturday, Aug 8th
Please - have all donation items to us by Wed Aug 5th
DROP OFF TIMES AND LOCATION
The Plumper Pumpkin Patch 11435 NW Old Cornelius Pass Road
Saturday August 1st 9AM- 3PM Sunday August 2nd Noon-5PM

Or, CALL TO ARRANGE FOR PICK UP OR DROP OFF If you have large or expensive items to donate, or can't make one of the drop-off times above, please contact any board member to arrange a drop off time or pick up.
SRN Board Contacts:
Laurel Erhardt 503.621.3501; George Sowder 503.621.3552; John Eskew 503.349.7031; Sue Kenney 503.621.3710; Brad Graff 503.292.1614



Thank you!
COMMUNITY:
It Can Happen Here!
Are You Prepared to Evacuate if a Wildfire Strikes?

When: Wednesday, August 12, 2015
Time: 7 p.m.
Where: Skyline Grange
11275 NW Skyline Blvd.

Details:
Nate Agalzoff (Stewardship Forester, Oregon Department of Forestry, Forest Grove District) will show actual footage of the 2014 Scoggins Creek Fire that occurred only 30 miles southwest of us in terrain similar to ours. This 400-acre fire finally was contained through the coordinated efforts of 600 firefighters and many agencies, some as far away as Lane County. 30-40 households were given evacuation "go now" orders, with another 32-50 households told to prepare to leave. John Kintz, a resident of Scoggins Creek for 50 years, will tell his story of being evacuated. Could you evacuate in 30 minutes?

This presentation will focus on what you should be prepared to do when a woodland fire breaks out, how you best can help firefighters, and practical information, such as what items you should have ready to take with you. Your first priority is to save the lives of yourself and family.

This program is made possible by the Educational & Charitable Fund of Skyline Grange.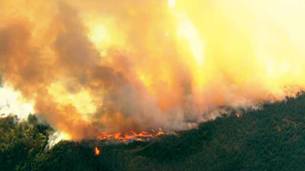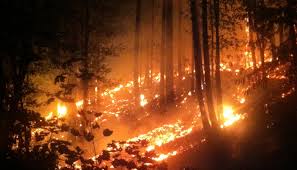 McCarthy Creek Clean Up
Removing Invasive Ivy and Trash
NW residents Jane Hartline, Rob Lee, Shawn Looney Jane Hartline and Shawn Looney tackle ivy
Fifteen volunteers organized by West Multnomah Soil & Water Conservation District plucked out tires and other trash from McCarthy Creek in NW Portland over the weekend (July 25
th
) and pulled invasive weeds along its banks. Above, volunteers cut a massive ivy infestation off the bridge on old St. Helens Hwy. at McCarthy Creek and filled about 10 bags of trash and weeds.
The cleanup began at the property owned by the Native American Rehabilitation Association on Hwy. 30 and a handful of residents joined in the effort to clear trash and improve water quality and habitat for fish and other critters.
McCarthy Creek flows into the Multnomah Channel and eventually into the Columbia River and the Pacific Ocean. Unfortunately, sections of McCarthy and its tributaries have been clogged with household trash and debris from nearby homes and drivers passing through. This harms the vital fish and wildlife habitat of the creek, degrades water quality, and contaminates soils. It also prevents the establishment of native vegetation, which helps stop erosion. Birds and wildlife can confuse litter for food. In addition to polluting McCarthy Creek, debris eventually works its way through its tributaries to the ocean, ending up in the stomachs of marine animals, including the fish we eat. Currently, 10% of the ocean's surface is plastic!
The Conservation District is working to improve water quality and habitat so that salmon, cutthroat trout, song birds, pollinators and other native wildlife such as red-legged frogs can thrive again in the area, considered by many to be a hidden treasure of Portland.
SCAPPOOSE FIRE DISTRICT AWARDED $438,546 GRANT
PRESS RELEASE
Contact: Cheryl Engstrom, Public Information Officer
Jeffrey Pricher, Division Chief
Scappoose Rural Fire District (503) 543-5026
Date: July 29, 2015
We were recently notified that we have been awarded a SAFER grant. SAFER stands for Staffing for Adequate Fire and Emergency Response.
The purpose of a SAFER Grant is to provide funding directly to our fire district or other national, state, local, or tribal organizations representing the interests of volunteer firefighters to assist them in increasing the number of firefighters to help communities meet industry minimum standards to provide adequate protection from fire and fire related hazards, and to fulfill traditional missions of fire departments.
We have been awarded $438,546.00 to hire two full-time Firefighter/EMT's for two years. This includes salary, benefits, taxes etc.
A SAFER Grant will positively affect our daily operations. The grant will add two Firefighter/ EMT's during the daytime (each working 4 day shifts) to augment our current shift staffing level. The daytime is when the majority of the alarms occur and having additional staffing during the daytime will allow us to meet NFPA 1720 and significantly reduce the delay in assembling resources to deal with overlapping alarms. With overlapping alarms being one of our greatest challenges, the additional positions will enable us to add that 4th position which will give us 2 in 2 out for fires and meet NFPA 1720 when the chief officers arrive on the first alarm assignment.
We hope to begin the hiring process immediately after the positions are approved by our civil service commission. Watch our websitewww.srfd.us for these upcoming job opportunities
NEIGHBORS:
SuperBowl Ticket Raffle!!
Dear Family, Friends & Neighbors:
The Lincoln Cardinal Football program is holding an incredible SuperBowl 50- 2016 Raffle as our primary fundraiser for the 2015 Season.
The Super Bowl package includes:
· * 2 tickets to the Game*
· * 3 nights lodging at a great hotel property*
· * $2500 Debit Card which can be used for travel expenses and spending money for the weekend*
It really will be a once in a lifetime experience for the winners!* The tickets are $50 each*, and the drawing will take place at halftime during our home game at Lincoln on September 11th. You don't need to be present to win and there will only be one winner drawn. We only have a limited number of tickets to sell.
I hope you will consider supporting the program. We are in rebuilding mode and are working hard to make Lincoln Cardinal Football a dominant power house in the PIL. We could use your help to do that!
You can find more details on the Super Bowl package ion our website at www.lincolncardinalfootball.info*. You can either purchase tickets straight from me by emailing me at gcheadle83 [at] gmail [dot] com or you can purchase raffle tickets on our website, it is super easy and very secure. *If you are purchasing online please enter my name**,** (Garrett Cheadle)** as the Cardinal Football Player who referred you to the site at the bottom of the purchase page*. My personal goal is to sell 100 tickets; I am working hard to get as many tickets sold as I can, so I can do my part to make this fundraiser a great success!
I appreciate your time and consideration. If you purchase tickets, thank you so much in advance, for your support!
*GO CARDS!!*
Garrett Cheadle
*P.S. PLEASE FORWARD TO OTHERS THAT YOU KNOW THAT WOULD LOVE A CHANCE TO ATTEND SUPER BOWL 50 AND HELP** SUPPORT ME IN MY SENIOR YEAR OF FOOTBALL AT LINCOLN HIGH SCHOOL, PORTLAND, OREGON*
Garrett and his family have been dependable helpers every year with the SOLVE Neighborhood Clean up, and also the SRN Summer Gathering setup and tear down.
Garrett, Austin and Jim Cheadle - SOLVE 2015
CLASSIFIED AD:
srnpdx.org - Find It: http://srnpdx.org/classifieds
Friendly pet brush goats
Added: 07/27/2015 - 12:00pm
Our goats are raised with hugs and blackberries. Most of them start weed-eating in their first week of life. If you're looking for an eco-friendly way to clear brush, goats are an excellent choice. Clever, personable, and affectionate, they are more fun than a weed-whacker. Ours generally top out at 100-150 lbs, so they are gentler on the soil than large livestock. As they defoliate brambles, sunshine and rain can reach the soil below and begin restoring the understory plants to reduce soil erosion. Repeated grazing exhausts the plants' reserves, eventually (over several years) killing it off completely without a drop of herbicide. Although they don't eat thistle plants, they usually eat the flowers, reducing the seed bank of the evil pricklies.
Our goats are raised with lots of love and need animal-loving homes that will treat them like the hard-working pets they are. They're familiar with electric fence, and they should never be tied out. You may have seen our cute cuddly boys and their rough-and-tumble dads as you drive down Germantown. We have a handful of sweet young fellows now, a few older more-experienced boys, and we'll have babies in the spring. Brush boys are wethered (neutered) so they aren't hormonal teenagers. Dairy girls are sometimes available, as well. We sell to approved homes only. We've loved these goat kids from birth and feel they'll do best in a home that offers affection along with work. They require shelter, protection from predators, clean water daily, loose minerals, and hay. Prices range from $75 to $150 each, and they cannot live alone. We believe that 3 goats is the minimum "herd" size that meets their social and emotional needs. Most of our goats are mini Nubians, floppy-eared cuties, with a few LaManchas, Nigerians, or cross-breeds.
To inquire, contact Tracy at farm [at] rockyscreek [dot] com or 543 1043 in the area code 503.
1952 D4 Caterpillar Tractor 7U
Added: 07/27/2015 - 9:58am
Does not run. Sitting for 15 yrs. U-haul.
503-621-3815.
EVENTS:
srnpdx.org - Calender: http://srnpdx.org/calendar
SRN Summer Gathering
Saturday August 8, 2015 - Noon to 5
At the Plumper Pumpkin Patch and Tree Farm
11435 NW Old Cornelius Pass Rd, Portland, OR 97231
As a service to neighbors, SRN publishes a listing of local government agencies and businesses in the Skyline Resource Directory. Follow the links in this section to view its contents and learn how to add a business or agency listing.
Listing of organizations and businesses herein does not imply any endorsement of SRN nor does it imply a lack of endorsement for similar organizations or businesses not included.

COMMUNITY LINKS:
About the Newsline: Skyline Rural Watch Newsline is a part of Skyline Ridge Neighbors (SRN) and has been produced since June 1994 as a means to communicate neighborhood information. The Newsline is produced by Laurel Erhardt (editor) with help from Miles Merwin, Libby Merwin, and Sen Speroff
The Newsline depends on you as a source of accurate information about local crimes, upcoming events, and other news pertinent to the area. If you have information you would like considered for the Newsline, you may do so by e-mailing the information tonewsline [at] srnpdx [dot] org, or leaving a message at (503) 621-3501. Urgent, timely items (crimes, lost pets) should be emailed toalert [at] srnpdx [dot] org.
If you would like more detailed information about any item on the Newsline, request that information & SRN will e-mail it to you if available.
You can subscribe to the Newsline at the Skyline Ridge Neighbors Website, SRNPDX.org. Tell your neighbors about this free Newsline service.
About Skyline Ridge Neighbors: SRN is a neighborhood association serving much of unincorporated northwest Multnomah County and some adjacent areas within the city of Portland. SRN is registered as a neighborhood association within Multnomah County, registered as a non-profit public benefit corporation with the State of Oregon and approved as a 501(c)(3) non-profit organization under the IRS Code. SRN is operated by volunteers and with donated funds entirely.
If you would like to donate to SRN in support of its activities, such as this free Newsline service and the publication of its quarterly Skyline Ridge Runner, send your donation to "Skyline Ridge Neighbors", c/o John Eskew, 15604 NW Rock Creek Rd, Portland OR 97231 or donate with credit card thru PayPal - http://srnpdx.org/donate-srn Contributions are tax deductible to the extent allowed by law.