Current Newsline
Skyline Rural Watch Newsline
Mailbox: newsline [at] srnpdx [dot] org
Urgent: alert [at] srnpdx [dot] org
Phone: (503) 621-3501
July 14, 2014
GOVERNMENT:

This news release is available online
<https://multco.us/communications/news/advisory-committee-meet-july-15-sauvie-islandmultnomah-channel-plan>

Contacts:
Kevin Cook, Land Use Planner, 503-988-3043 Ext 26782
Joanna Valencia, AICP, Senior Transportation Planner, 503-988-3043 Ext 29637

*Advisory committee to meet July 15 on *
*Sauvie Island/Multnomah Channel plan*

The Sauvie Island / Multnomah Channel Community Advisory Committee will meet on Tuesday, July 15 from 6 p.m. to 8:30 p.m. at the Sauvie Island Academy gymnasium at 14445 NW Charlton Road. The public is welcome to attend this meeting.

The meeting will focus on reviewing the draft Rural Area Plan narrative and policies. This document is a result of a year-long planning process that involved the Community Advisory Committee, a Technical Advisory Committee, and the broader community. The draft plan is available for review on the project website at *https://multco.us/simc-planning.

A revised draft will be posted to the website after the July 15 meeting incorporating final changes as well as the final design. The plan will then be presented at a hearing of the Multnomah County Planning Commission on August 4, the first of several public hearings scheduled in August and September. The Board of County Commissioners will vote on the plan this fall.

Multnomah County is the local planning authority for the portions of Sauvie Island and the Multnomah Channel within the county. The Community Advisory Committee provides input on policies related to the transportation and rural area plans.

For more information, visit the project website or email questions and comments to simcplanning [at] multco [dot] us.

Mike Pullen <mike [dot] j [dot] pullen [at] multco [dot] us> | Multnomah County Communications
Office | 503-209-4111 | newsroom <http://www.co.multnomah.or.us/news/> | twitter <http://twitter.com/multco> | facebook
<http://www.facebook.com/MultCo>


Skyline Artisans Guild 2014 Summer Festival

Skyline Artisans Guild is pleased to announce our 2014 Summer Festival at the Skyline Grange starting on Friday evening
July 25th from 4-7pm, and Saturday and Sunday July 26th, 27th from 10am- 4pm.

Come and browse the wide range of booths showcasing the work of local Skyline area artisans, including hand sewn clothing and accessories, jewelry, book arts, glass,pottery, and work in other media. Pick up that perfect gift for friends and family. There will be local food vendors offering baked goods, pickles, and other foods. We also hope to showcase the summer garden offerings from area growers.

Enjoy the beautiful summer weather while listening to music out on the grass, with informal acoustic bluegrassand folk jam sessions presented between the scheduled music.

There are also plans in the works for artisan demo-presentations open to the public during the weekend.

Discover the beauty that is being created in your neighborhood,and come out to strengthen our shared community bond. We look forward to seeing you.
For more information, please contact Ken Pincus at ken [at] pincuspotterystudio [dot] com.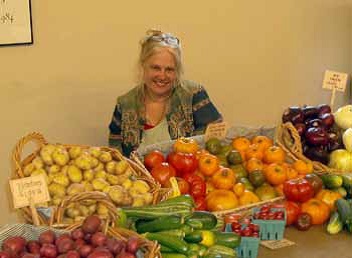 Abhaya Thomas offers her locally-grown produce to visitors at the 2013 Skyline Artisan Guilds' "Summer Festival." The Guild
1 (Photo: K. Pincus)

COMING NEIGHBORHOOD EVENTS:

July 19 and 20 Linnton Weekend Market
Linnton Weekend Market is up and running again, every third weekend of the month through December at the Linnton Community Center.
Contact Nancy at (503)286 7752 for information

July 25, 26 and 27 Skyline Artisans Guild Summer Festival
Continuing our series of events at the Skyline Grange, we are pleased to invite the public to our 3rd annual Summer Festival presented by Skyline Artisans Guild. contact: ken [at] pincuspotterystudio [dot] com
Place: Skyline Grange #894, 11275 NW Skyline
July 26, Holybrook Bible FREE Neighborhood Fair - Noon to 4pm
Food, Games, Music & Vendor Booths Lots of fun including Bouncy Castle Contact Tam at:rtege [at] yahoo [dot] com
19200 NW Morgan Road Portland OR

August 23rd WMSWCD Annual Rual Living Field Day on Sauvies Island
For more information: http://www.wmswcd.org/content.cfm/Calendar/View-Event?eventid=609

August 24th, Skyline Ridge Neigbors Annual Fundraising Summer Gathering
More information is forthcoming in the Ridge Runner July issue that will be in your mailboxes soon. Or contact srn [at] srnpdx [dot] org to with questions, to donate or volunteer
Location: The Plumper Pumpkin 11435 NW Old Cornelius Pass Road

SRN Board Meeting:
Regular SRN Board Meeting will be held at 18030 NW Johnson Road. All are welcome to attend.

Classifieds:
Phoenix Farm
Added to srnpdx.org website: 07/09/2014
Phoenix Farm Riding School and Stable
We offer Horseback riding lessons for all ages and full care boarding.
We have large indoor and all-weather outdoor arenas.
Phone 503-803-4292.
Corner of Skyline Blvd. and Rock Creek Rd.
Check our our face book page for farm news and horse information tidbits
email: 13phoenixfarm13@gmail.com
Website: www.phoenixfarm.tumbler.com


As a service to neighbors, SRN publishes a listing of local government agencies and businesses in the Skyline Resource Directory. Follow the links in this section to view its contents and learn how to add a business or agency listing.
Listing of organizations and businesses herein does not imply any endorsement of SRN nor does it imply a lack of endorsement for similar organizations or businesses not included.

COMMUNITY LINKS:

About the Newsline: Skyline Rural Watch Newsline is a part of Skyline Ridge Neighbors (SRN) and has been produced since June 1994 as a means to communicate neighborhood information. The Newsline is produced by Laurel Erhardt (editor) with help from Miles Merwin and Sen Speroff
The Newsline depends on you as a source of accurate information about local crimes, upcoming events, and other news pertinent to the area. If you have information you would like considered for the Newsline, you may do so by e-mailing the information to newsline [at] srnpdx [dot] org, or leaving a message at (503) 621-3501. Urgent, timely items (crimes, lost pets) should be emailed to alert [at] srnpdx [dot] org.
If you would like more detailed information about any item on the Newsline, request that information & SRN will e-mail it to you if available.
You can subscribe to the Newsline at the Skyline Ridge Neighbors Website, SRNPDX.org. Tell your neighbors about this free Newsline service.
About Skyline Ridge Neighbors: SRN is a neighborhood association serving much of unincorporated northwest Multnomah County and some adjacent areas within the city of Portland. SRN is registered as a neighborhood association within Multnomah County, registered as a non-profit public benefit corporation with the State of Oregon and approved as a 501(c)(3) non-profit organization under the IRS Code. SRN is operated by volunteers and with donated funds entirely.
If you would like to donate to SRN in support of its activities, such as this free Newsline service and the publication of its quarterly Skyline Ridge Runner, send your donation to "Skyline Ridge Neighbors", c/o Laurel Erhardt, 14416 NW Skyline Blvd, Portland, OR 97231 or donate through PayPal. Contributions are tax deductible to the extent allowed by law.