Current Newsline
Mailbox: newsline [at] srnpdx [dot] org
Urgent: alert [at] srnpdx [dot] org
Phone: (503) 621-3501
February 28, 2015
COMMUNITY:

Board News:
It is with regret that Valerie Fries-Wade has resigned from the SRN Board. She did an outstanding job while participating and her skills and hours and hours of work brought much to SRN. We are an improved organization because of her efforts. Valerie is looking forward to a time when she'll be able to get back to helping SRN full sail.
Valerie - Thank you, thank you, thank you.

New Board Member:
Brad Graff, was voted in as a new board member at our last meeting. Brad is a relatively new neighbor in the 13000 block of Skyline. His professional skill set and personal interests will be a compliment to the board and an asset to the SRN Neighborhood. Welcome Aboard Brad!

Skyline Ridge Runner: Deadline approaching for next issue
The deadline for the next issue of the Skyline Ridge Runner is March 15. If you have any ads, calendar listings, news items, stories, letters, photos, etc. that you would like to submit for publication in the next edition, please email them to ridgerunner [at] srnpdx [dot] org. Or call me (621-9867) to let me know you're going to send something for the Ridge Runner. Please note that the Ridge Runner may not reach mailboxes until the middle of the month of publication.

Thanks,
Miles Merwin
Editor

SRN General Meeting
The SRN Spring General Meeting is in the works. To be in compliance with 501c3 regulations, we will be presenting our annual report and will have an election of officers. Let us know if you are you interested in becoming a board member. It's a really good opportunity to connect with your neighbors and volunteer close to home! Email SRN: srn [at] srnpdx [dot] org if you're interested or have questions.
At this general meeting, we also have a presentation topic that is relevant to our rural living neighborhood. Is there a topic you'd like to see presented at that meeting? Forest? Farm? Rural Living Safety? Let me know if there's something you'd be interested in and we'll consider it. email - srn [at] srnpdx [dot] org.

Spring Backyard Burn Season Begins: on March 1, running through June 15. Before you burn you must call to verify if it is an approved burn day. Log onto www.smkmgt.com/burn.php<http://www.smkmgt.com/burn.php>for DEQ's Daily Burn Message. With such an unusually dry winter, the ground is not saturated very deep at all, so take extra fire pre-cautions when burning, have a hose, shovel and rake ready, hose down the area surrounding the burn pile, and make sure you hose down the burn pile area well when finished.

10th Annual Skyline Grange Tree & Native Plant Sale on April 3-4
This means for 10 years some trees and plants thriving in the Skyline community were purchased at our very first Sale. We are getting charged up for our 10th anniversary. The Sale will be on Friday, Saturday, April 3-4 (yup, Easter weekend) from 9 a.m. to 5 p.m. at Skyline Grange, 11275 NW Skyline Blvd. We will have over 85 native plant species and a great variety of bareroot ornamental shrubs and bareroot fruit-bearing, shade and ornamental trees. All stock are from licensed nurseries.

Request Skyline Grange's Native Plant Pre-Order Form
Native plants can be bought at the Sale or even better, pre-order what you desire. Request a Native Plant Pre-Order Form (which also includes a descriptive guide to the plants) at skylinegrange894 [at] msn [dot] com or pick one up at Plainview Grocery. Deadline for returning native pre-orders is March 28. (Plants in the Bareroot Section will be available only during the Sale, and not as pre-order.)

Senior Softball & Leon Speroff featured on KGW News
A recent KGW news feature highlighted Leon Speroff and the Vancouver Metro Senior Softball Association's effort to raise funds to build a softball field on land leased, without fees, by Clark County. Leon is a long-time local Skyline resident. VSSA is a league for softball players over age 60, with 86 being the oldest player at present. You can watch this 2-minute KGW segment at http://www.kgw.com/story/news/local/vancouver/2015/02/25/wash-seniors-believe-softball-is-key-to-happy-retirement/24027743/<http://www.kgw.com/story/news/local/vancouver/2015/02/25/wash-seniors-believe-softball-is-key-to-happy-retirement/24027743/>and read more about VSSA's field efforts at www.vancouverseniorsoftball.com. It is plain heart-warming.

ENVIROMENT:

Native Plants of Columbia County -- easy walk at Nob Hill Nature Park
Saturday, March 21 1-3 PM
St Helens, Oregon 97051

Join the Friends of Nob Hill Nature Park and the Native Plant Society of Oregon for an easy, low-key stroll through Nob Hill Nature Park to view trillium and fawn lily in an area currently undergoing restoration. NHNP is a 6.6-acre oak woodland, perched on a basalt bluff. It overlooks the Columbia River. Visit the park and give your two cents on native plants found in this lower-Columbia River ecosystem. Poison oak is found off well-maintained trails. Long pants and long sleeves are suggested. This event is on, rain or shine.

Directions: NHNP is 30 miles north of Portland, off Hwy 30, in St Helens. Meet at city's wastewater treatment facility across from park by 1 PM. Allow 45-minute drive time from Portland. Coming from Portland, take Hwy 30 north, past Sauvie Island and Scappoose. At the WalMart in St Helens, turn right on Gable Road. Go toward the river. Bear right on Plymouth Street and keep right, until you see the water treatment plant on the right. There is plenty of easy parking across from the park's main entrance. (For day of event only, call 503-349-8586.)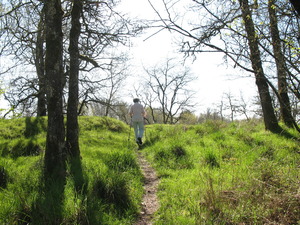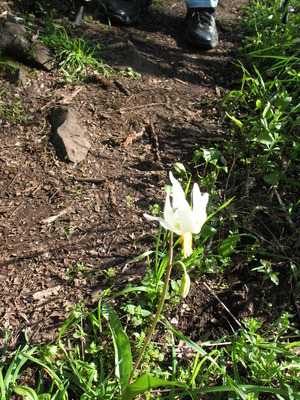 Photos by Laurel Erhardt of her mom Mary Kucera and a Fawn Lily, on a Nobb Hill stroll in 2013 - Hey Sen, I'll be ordering some Fawn Lily's from the Grange Plant Sale.
CLASSIFIED AD:
srnpdx.org - Find It: http://srnpdx.org/classifieds
Pasture Available
Pasture available 10+ acres on NW Germantown Road
Bruemmer4865 [at] comcast [dot] net
Pasture Wanted
I have a friend who is looking for a place to rent for her farm animals She has 4 pigs who don't root, 3 goats, 3 turkeys, and a few chickens. She needs a fenced pasture with a shelter. She is currently paying $400.00 per month.
If you think you would be interested in speaking with her, please call Dianna at 503-929-2723 or call Christina at 503-621-3823 for references.
hmmmmm.....
EVENTS:
srnpdx.org - Calender: http://srnpdx.org/calendar
Sat, 02/28/15 - 10:00am - 2:00pm Skyline School Bottle and Can Drive
Skyline 8th graders are collecting bottles and cans that have an OR 5¢ refundable deposit. Collections are at the Skyline Grange on the following dates: 2/28, 3/21, 5/16 and 7/11. If you have a large collection or can't make one of the above dates, please contact us and we can make alternate arrangements.
John & Debra Meskimen imbgred [at] aol [dot] com
Fri - Sat, Mar. 13-14: Spring Garage Sale at Skyline Grange.
Donations will be accepted until Monday, March 9 at 2 p.m. The Sale will run on Friday, March 13 from 9 a.m. to 7 p.m. and on Saturday, March 14 from 9 a.m. to 5 p.m.
The following times are scheduled donation hours, but if the date is starred (**), please contact Grange ahead to confirm the time (skylinegrange894 [at] msn [dot] com or 503-708-1414).
Skyline Grange Garage Sale Donation Drop-Off Hours:
Sat., Feb. 28 (10-noon)

** Tues., Mar. 3 (10 a.m. - 1 p.m.)

** Fri., Mar. 6 (9 a.m. - noon)

Sun., Mar. 8 (10 a.m. - 2 p.m.)

Mon., Mar. 9 (9 a.m. - 4 p.m.)
Fri - Sat, April 3-4 : Spring Tree & Native Plant Sale
Skyline Grange will hold its annual "Tree & Native Plant Sale" on a Friday and Saturday in April. Dates will
be announced in the Skyline Newsline. It is not too early to start researching which plants and trees are best for your landscape. We will have a large variety of native wildflowers, shrubs and trees and a large variety of bareroot fruitbearing trees, shade and ornamental trees and shrubs. If you would like to receive a Native Plant Pre-Order Form when available, email the Grange. SkylineGrange894 [at] msn [dot] com (SkylineGrange894 [at] msn [dot] com)
Saturday April 18th SOLVE
See details and sign up now:
http://solveoregon.org/get-involved/events/skyline-ridge-neighbors-solve-it
Resource Directory: As a service to neighbors, SRN publishes a listing of local government agencies and businesses in the Skyline Resource Directory. Follow the links in this section to view its contents and learn how to add a business or agency listing.
Listing of organizations and businesses herein does not imply any endorsement of SRN nor does it imply a lack of endorsement for similar organizations or businesses not included.

COMMUNITY LINKS:

About the Newsline: Skyline Rural Watch Newsline is a part of Skyline Ridge Neighbors (SRN) and has been produced since June 1994 as a means to communicate neighborhood information. The Newsline is produced by Laurel Erhardt (editor) with help from Miles Merwin, Libby Merwin, and Sen Speroff
The Newsline depends on you as a source of accurate information about local crimes, upcoming events, and other news pertinent to the area. If you have information you would like considered for the Newsline, you may do so by e-mailing the information to newsline [at] srnpdx [dot] org, or leaving a message at (503) 621-3501. Urgent, timely items (crimes, lost pets) should be emailed to alert [at] srnpdx [dot] org.
If you would like more detailed information about any item on the Newsline, request that information & SRN will e-mail it to you if available.
You can subscribe to the Newsline at the Skyline Ridge Neighbors Website, SRNPDX.org. Tell your neighbors about this free Newsline service.
About Skyline Ridge Neighbors: SRN is a neighborhood association serving much of unincorporated northwest Multnomah County and some adjacent areas within the city of Portland. SRN is registered as a neighborhood association within Multnomah County, registered as a non-profit public benefit corporation with the State of Oregon and approved as a 501(c)(3) non-profit organization under the IRS Code. SRN is operated by volunteers and with donated funds entirely.
If you would like to donate to SRN in support of its activities, such as this free Newsline service and the publication of its quarterly Skyline Ridge Runner, send your donation to "Skyline Ridge Neighbors", c/o John Eskew, 15604 NW Rock Creek Rd, Portland OR 97231 or donate with credit card thru PayPal - http://srnpdx.org/donate-srn Contributions are tax deductible to the extent allowed by law.