Newsline,July 29, 2012
Skyline Rural Watch Newsline
Mailbox: newsline [at] srnpdx [dot] org
Urgent: alert [at] srnpdx [dot] org
Phone: (503) 621-3501
July 29, 2012
Well, SHOOT, I forgot to click send last week! Hope LCC had a good turn out for the golf tournament. Not sure if the parrott found his owners.
My apologies -
Laurel Erhardt
SRN Newsline
The Skyline Ridge Neighbors Summer Gathering is coming up on August 18th! Gary Houston just donated some stunning, limited edition posters, this is one of them that will be in the silent auction.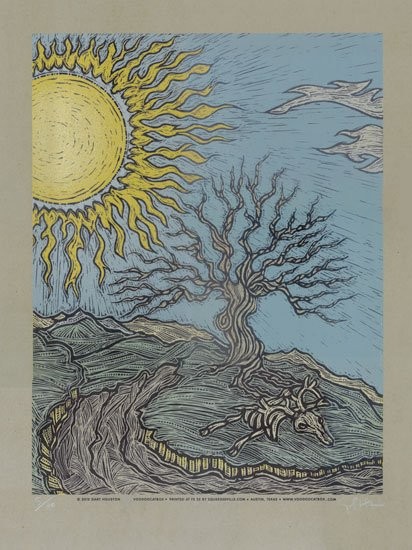 Limited ed. art print titled "Dry Spell" silkscreen printed in Austin, TX by Squeegeville for Flatstock 33/ SXSW 2012- artwork Gary Houston
For more details about this community gathering and only fundraiser for SRN - what to donate, how to help - go to http://srnpdx.org/you%E2%80%99re-invited-summer-gathering-august-18-2012.
Please deliver all auction donations to Brooks Hill church no later than Wednesday, August 15th. It takes time
to process and inventory the donations so bringing them early is much appreciated by the volunteer auction team.
FOUND PARROT:
Found Parrot near Rocky Point Rd. and Hwy. 30. Contact All About Pets in Scappoose 503-543-5740 to identify and claim.
COMMUNITY ORGANIZATIONS:
Linnton Community Center Fund Raiser
NORTHWEST INDUSTRIAL GOLF INVITATIONAL
Bringing some of the largest industries in Portland together with a common goal of caring for the children. A benefit for the Linnton Community Center.
Date of Event: WEDNESDAY, 8/1/2012
Location of Event: LANGDON FARMS GOLF COURSE
Order of speakers: STATE SENATOR BETSY JOHNSON
PORTLAND MAYORAL CANDIDATES CHARLIE HALES & JEFFERSON SMITH
CITY COMMISSIONER AMANDA FRITZ WILL BE ATTENDING THE DINNER.
August 1, 2012
10am - Registration open
10am-11:30am - Registration/lunch
11:30am - Noon - Kick off event/Thank you to Sponsors/Players
Noon - 5pm Players golfing
Noon - 4pm VIP party in white house
5pm - 7pm Dinner/Raffle
website:
linntongolf.com
/ Brian Harmston is the organizer of this event:
brian

[at]

linntongolf [dot] com
: cell phone: 503-522-1149
Pat Wagner
503-475-3731 cell
Thanks to all the companies for taking care of where we work and live and for giving the children of this area the opportunities all children deserve.
TRANSPORTATION & PULIC SERVICES:
Road closure
Upper Springville Road, fromNW Skyline to the trailheads for Springville Road, Firelane 7, Trillium Trail and HardestyTrail will be closed from 7:30am to 1:30pm on Wednesday, August 1 for dustcontrol application on Springville Road.
JamesAllison
Portland Parks &Recreation, Natural Areas Supervisor | Hoyt Arboretum
4000 SW Fairview Blvd., Portland, OR 97221
503-823-4474 (office), 503-823-8367 (mobile)
James [dot] Allison

[at]

PortlandOregon [dot] gov
ENVIRONMENT:
Funds Available For Restoration Projects
Grant applications are now being accepted for the West Multnomah Soil & Water Conservation District's Financial Incentives for Sustainable Habitats (FISH) program. There will now only be two funding cycles for FISH Grants; one with a deadline of August 15, 2012 and the second with a deadline of February 15, 2013. Grants will be considered for organizations/property owners in West Multnomah County that are not currently working with the District; projects must be managed by an external organization. Grant applications are online at
http://www.wmswcd.org/content.cfm/Grant-Opportunities/WMSWCD-Grants
.
The FISH Grant application and Project Budget documents must be signed and postmarked by the deadline as well as electronically submitted by 1:00 p.m. on the day of deadline to
erica

[at]

wmswcd [dot] org
.
The FISH program supports conservation-related work by landowners in West Multnomah County that meet specific criteria. Neighborhood by neighborhood, WMSWCD is helping change the way residents look at their land and encouraging them to be better stewards. Taken as a whole, the projects weave together an entire ecosystem that is much healthier than it was before. General guidelines are:
* Up to $10,000
* Up to 50% match
* Supports conservation projects, conservation education, and community events that promote natural resource conservation
* Must address one or more of the following: water quality, watershed health, flora health, wildlife & fish habitat
Carolyn Myers Lindberg, Communications Coordinator
West Multnomah Soil & Water Conservation District
2701 NW Vaughn Street, Suite 450, Portland, OR 97210
503.238.4775, ext. 101
carolyn

[at]

wmswcd [dot] org
Conservation District Treats 75 Acres of Garlic Mustard
West Multnomah Soil & Water Conservation District successfully treated 75 acres of invasive garlic mustard this summer...surpassing last year's acreage by 15. Much of the success was due to a large outreach effort by the District in an effort to reach homeowners who might not know they have the highly invasive plant. WMSWCD contacted 725 property owners in the West Hills and Riverview areas with information about its garlic mustard control program.
The good news is that garlic mustard appears to be declining in previously treated areas. And of the 57 newly discovered infestations this year, an additional 37 sites surveyed contained no garlic mustard plants at all. In many cases, only scattered individual plants were found, including the discovery of a very small patch in an otherwise large and intact forest within the Balch Creek watershed.
Garlic mustard (Alliaria petiolata) is a "high priority listed" noxious weed and Multnomah County has one of the worst infestations in the state. This aggressive herb displaces native plants by monopolizing light, moisture, nutrients, soil and space. Garlic mustard also releases chemicals into the soil that are toxic to other plants. These chemicals are particularly harmful to soil fungus vital to native plants.
Without attention, noxious weeds crowd out native and beneficial species, damaging our native ecosystems. We are asking for assistance from local landowners and residents, the first stewards of the land, to help us identify, locate, and manage them.
If you know of any garlic mustard patches, please call WMSWCD immediately. By reporting infestations, WMSWCD can help control garlic mustard at no cost to landowners.
"Conserve and protect soil and water resources for people, wildlife and the environment."
Carolyn Myers Lindberg, Communications Coordinator
West Multnomah Soil & Water Conservation District
2701 NW Vaughn Street, Suite 450, Portland, OR 97210
503.238.4775, ext. 101
carolyn

[at]

wmswcd [dot] org
COMMUNITY LINKS:
Bookkeeping Services
Small businesses looking for a bookkeeper with QuickBooks experience contact Barbara at 503-422-9238 or go to my website at
www.barbararolandaccounting.com
Resource Directory:
As a service to neighbors, SRN publishes a listing of local government agencies and businesses in the Skyline Resource Directory. Follow the links in this section to view its contents and learn how to add a business or agency listing.
Listing of organizations and businesses herein does not imply any endorsement of SRN nor does it imply a lack of endorsement for similar organizations or businesses not included.
About the Newsline: Skyline Rural Watch Newsline is a part of Skyline Ridge Neighbors (SRN) and has been produced since June 1994 as a means to communicate neighborhood information. The Newsline is produced by Laurel Erhardt (editor) with help from Miles Merwin, Libby Merwin, Sharon Barthmaier, and Sen Speroff
The Newsline depends on you as a source of accurate information about local crimes, upcoming events, and other news pertinent to the area. If you have information you would like considered for the Newsline, you may do so by e-mailing the information to newsline [at] srnpdx [dot] org, or leaving a message at (503) 621-3501. Urgent, timely items (crimes, lost pets) should be emailed to alert [at] srnpdx [dot] org.
If you would like more detailed information about any item on the Newsline, request that information & SRN will e-mail it to you if available.
You can subscribe to the Newsline at the Skyline Ridge Neighbors Website, SRNPDX.org. Tell your neighbors about this free Newsline service.
About Skyline Ridge Neighbors: SRN is a neighborhood association serving much of unincorporated northwest Multnomah County and some adjacent areas within the city of Portland. SRN is registered as a neighborhood association within Multnomah County, registered as a non-profit public benefit corporation with the State of Oregon and approved as a 501(c)(3) non-profit organization under the IRS Code. SRN is operated by volunteers and with donated funds entirely.
If you would like to donate to SRN in support of its activities, such as this free Newsline service and the publication of its quarterly Skyline Ridge Runner, send your donation to "Skyline Ridge Neighbors", c/o Karen Garber, 16238 NW McNamee Rd., Portland, OR 97231 Contributions are tax deductible to the extent allowed by law.